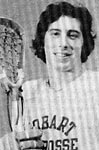 Jonathan Feinstein
Twenty-four years ago we lost a man who exemplified, as well as anyone, the high ideals and common decency that define the mission of Hobart and William Smith. We did not lose Jon Feinstein in Flanders Fields or on Omaha Beach or at Khe Sanh, but when he died so young of Non-Hodgkin Lymphoma at age 27, everyone who knew Jon understood the magnitude of the loss. Mature well beyond his years, Jon defied stereotypes. A first rate athlete, he captained the 1980 championship lacrosse team where his style was to run through people instead of around them. And, if that's all you knew about Jon, you might have been intimidated. But that concern evaporated the instant you met him. Jon was kind and gentle and exuded warmth that put everyone who met him at immediate ease. Jon was a teacher. He was a coach, a Resident Advisor, a mentor to kids, but more than anything, he served as a conscience for so many of us. When you were around Fein Daddy you just wanted to do the right thing.
As he was dying, friends worked with Jon to start a Jon Feinstein Memorial Fund to help serve the community. Jon's one directive was that the Fund had to help kids and give those without opportunities a better chance in life. His Fund has lived up to his goals and helped build a lacrosse program for inner city children in Harlem and provide a pathway for them to a better education. It has helped.
On the weekend of April 16, 2011 at 2:30 p.m. Hobart and William Smith held the Big Fein Daddy Benefit Concerts at the Barn (4/16), and on the Quad (4/17). Rising music star Chris Nathan, and - closer to our generation - the horn section from Southside Johnny and the Asbury Jukes (to be known for this concert as the "Fein Daddy Horns"). In keeping with Jon's directive, the proceeds from these concerts will go to Geneva General Hospital/Finger Lakes Health to help cover the costs of health services for sick kids without health insurance in the Geneva area.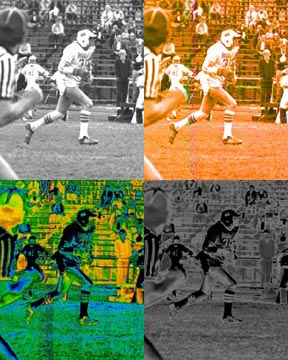 Memorial Action Photo of Jon Feinstein playing for the Hobart Statesmen on 4/27/77
Concerts Photos: