It's hard to believe that I've been working on "The Colors of the UrbanLandscape" for over 25 years. A project that has 2 starting points, in June, 1989, when I visited Paris for my brother's wedding; and in January, 1990, when, because of both boredome, and unemployment, I took a trip to Manhattan to the World Trade Center, to take some photos. Like the photos I took in Paris, this first NYC shoot produced a lot of extremely colorful photographs, proving that the Urban Landscape, while it appears on the surface, to be drab & colorless; if you look closely, especailly at the drab, everyday sights that most people ignore, that the Urban Landscape is truly, a world of amazing color! The results of that shoot of the World Trade Center, encouraged me to keep going to Manhattan, choosing different neighborhoods, to see how many more photos I can find.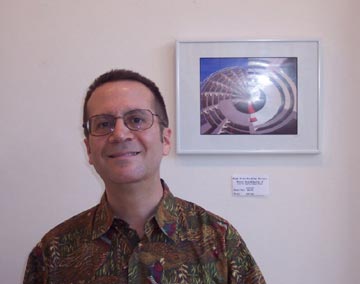 Jonathan White at his exhibit at The Atelier of Art, Rochester, NY
October 5, 2006 Photograph by Barbara Bangs
As my creative project progressed, I started to notice the colorfull graffiti murals. Soon I took notice of one particular graffiti artist, Chico, who works mostly in Manhattan's Lower East Side. In 1993 I met Chico, and he liked the way I captured his murals. A couple of years after that, Chico joined me on a collaboration project, where he painted art work on some of my prints. The result of this project inspired me to have a website created, and the original version of my website was made in 1996 by a friend of mine, Christopher Grauert. Meanwhile, things continued to progress with my fine art exhibitions, and I even served as the curator of 7 group art shows (July, 1995, April, 1999, September, 2005, September, 2007, September, 2008), January, 2010, and January, 2012 A Fraternity of Artists, the first two shows held at the East Village's La MaMa La Galleria, and the Seventh exhibition at 1570 Gallery in Rochester, NY will be opened on Friday January 6, 2012. The other artists were all artists from my Fraternity from RIT, Alpha Epsilon Pi. At the end of 1998, I finally got a computer, and I taught myself how to use Adobe Photoshop. This led to the creation of numerous special-effects images which form the basis for this present version of my website. This image work also led me to want to know more about computer Graphic Design. I went back to RIT for night classes, and I'm now quite adept at Quark XPress, and I took 2 courses in Adobe Photoshop.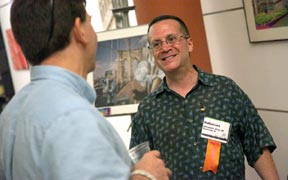 Jonathan White at his Exhibit at Hobart & William Smith Colleges, Geneva, NY
June 4, 2010 Photograph by Kevin Colton
In 2009, I finally got my first Digital SLR, and frequent visitors to this website are aware of my much faster pace in adding new photos/digital art. "The Colors of the Urban Landscape," continues as a creative driving force. Besides shooting many photos in Rochester, NY; I always try to do 2 extensive shoots in New York City, as well as neighboring cities; Buffalo, Syracuse, Geneva, NY, etc. Included in my plans, are events, such as balloon festivals, state fairs; events that I know, will have a lot of color to capture. I've also been doing a variety of freelance work, and the new Commercial Photographs galleries show some of my more interesting assignments. Since the formation of this website, I've created thousands of more digital images, some of which have been in art galleries world wide.
This website has been evolving since I first designed it, spurred on by the addition of new material. I now have this website designed to accomodate infinite expansion. My future goals are simple. I want to do all manner of creative work, in both Photography & Graphic Design.
Finally, I have to add that besides creating my own digital images, that I'm also available for hire in my many capacities as a Freelance Photographer, Graphic Designer, and/or Website Designer. I hope everybody enjoys the work that went into my website. If you want to know more, please feel free to send me an e-mail, I'll be happy to answer any of your questions.
Jonathan White